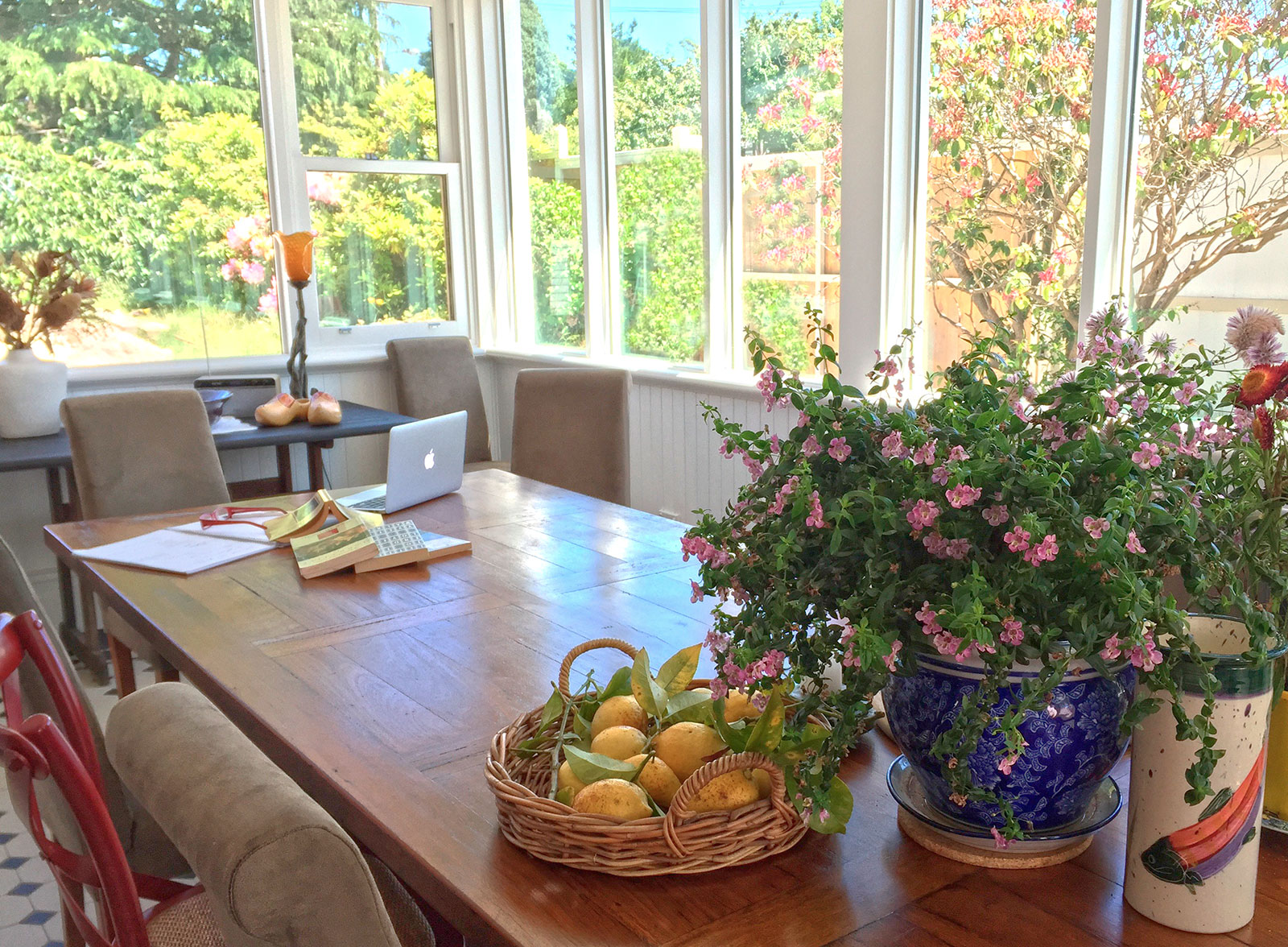 The Writing Table is a space where Carol Major offers mentoring, intimate workshops and reading groups.
The 2016 Autumn Residentials are now on offer. Carol's tranquil Blue Mountains cottage offers accommodation for up to three writers at a time for week-long stays, although longer and shorter periods can be arranged.
The Residentials operate to suit writers' needs and include the reading of sample chapters and ongoing consultations as required during the stay. Mini-workshops on aspects of craft can be arranged.
To enquire about the Residentials go to "contact button". 
"Even though the draft, a portion of which I presented to Carol, had already been culled and edited in a serious fashion twice over, she was able to indicate structure, or lack of, within. She explained that, "events happen in emotional time" and gave a wealth of good advice. I knew exactly what she was saying yet, in explaining herself so clearly, she took me beyond what I believed I knew. She said "Don't tell me, take me!"
-Martin Raphael, author of The Sideshow Theatre Company
When working with a writer I seek harmony between vision and craft. Sometimes craft is finally executed but if there is no story heart it falls short of the mark. On the other hand vision without craft cannot achieve its aim either.
This is why I like to engage with a writer as well as a manuscript. Working with a writer in this way requires active listening. I need to suspend my own certainty about writing form. I need to hear what the writer is trying to do.
Individual writers have individual needs. I ask that sample chapters in all their messy form be sent at least one week in advance of the residency. Upon arrival there will be an initial consultation where we will explore the project together. In the days that follow I am available for ongoing conversations about the work and to read pages as it progresses. The aim is that writers will leave the residency with a clear direction and the confidence to complete.
"I worked with Carol on my second novel, Out of Place during a Professional Development Week at Varuna. She connected with the narrative immediately – skirted my clumsy attempts to make the novel fit my originally intended feminist theme and brought it back in line with the feelings that had given rise to it in the first place. If the proof is in the final work, certainly her advice was spot-on in that I find that the book is attracting as much comment and attention from men as it is from women. Carol has the uncanny knack of being able to get to the core of the story and reflect that central motif back to the writer."
Tangea Tansley
Author of A Break in the Chain, For Women Who Grieve, Out of Place
Joint-winner of the 2013 Todhunter Literary Award, shortlisted for the Julie Lewis and the A B Natoli and winner of the Launceston Tasmania Literary Award 2015.
Residentials
Carol's cottage has two single bedrooms that share a toilet/shower room. There is a small desk in each bedroom.
A separate ensuite room comes with its own study, toilet and bath.
Food is available for writers to prepare breakfast and lunch at their convenience. Dinner is served at an agreed time and caters for special diets.
The week-long stay includes readings of selected chapters and consultations as required.
Single room stay: $1200
Ensuite stay: $1500
Variations to the stay can be negotiated.
Workshops
Workshop prices will be posted at the time of availability
Long Distance Mentoring
Carol also provides long-distance mentoring through Skype or Facetime. Please contact her for further information.